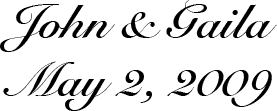 About Us
We met in high school, probably during lunch when a group of our mutual friends hung out. At the time we both were in different relationships. I graduated and went to Iowa State University; a year later Gaila graduated and went to Mount Marty College in South Dakota. During her time in South Dakota she became single again and we ended up chatting a lot online and being oblivious to what was developing between us.
One weekend in the fall of 2004 I invited Gaila to Okoboji with my parents for a couple days of hanging out as just friends. During that time my mom decided to tease Gaila by inquiring about the possibility of grandkids. This resulted in embarrassment for me, and a throw pillow being launched by Gaila. At that point, my mom approved of our soon-to-come relationship.
Later that fall Gaila invited me up to South Dakota for a folk music performance. While talking into the wee hours of the morning across the room, we decided we were no longer just friends and could work with the distance. And so it began.
During our time together while apart we spent many evenings together on instant messenger, and had several long telephone sessions. Gaila decided to transfer to Iowa State University to be closer and to save on tuition costs in fall 2005. In August 2006 we moved in together in the apartment we are currently at, after discovering that we spent all of our time together anyway.
On February 10, 2008 after shopping for pants at JC Penney's we decided to stop by the jewelry store in the mall to pick out a ring. The next day I picked up the ring and very un-romantic like Gaila had to put the ring on before I could properly ask her to marry me. It's nice to know the answer before the question is even starting to come out.
Our plans for the wedding include getting baptized together. We'll be honeymooning for a week in Cancun, Mexico at an all-inclusive beachfront resort. Immediately after getting back from the honeymoon, our plan is to go house hunting so we can close with enough time to move before the end of our lease.
In the next few years, Gaila plans to go to vet school and I will continue to work for the university doing web development for the College of Agriculture and Life Sciences.